A Simple Guide To Getting Around Cozumel, Mexico
January 7, 2022 / updated February 22, 2023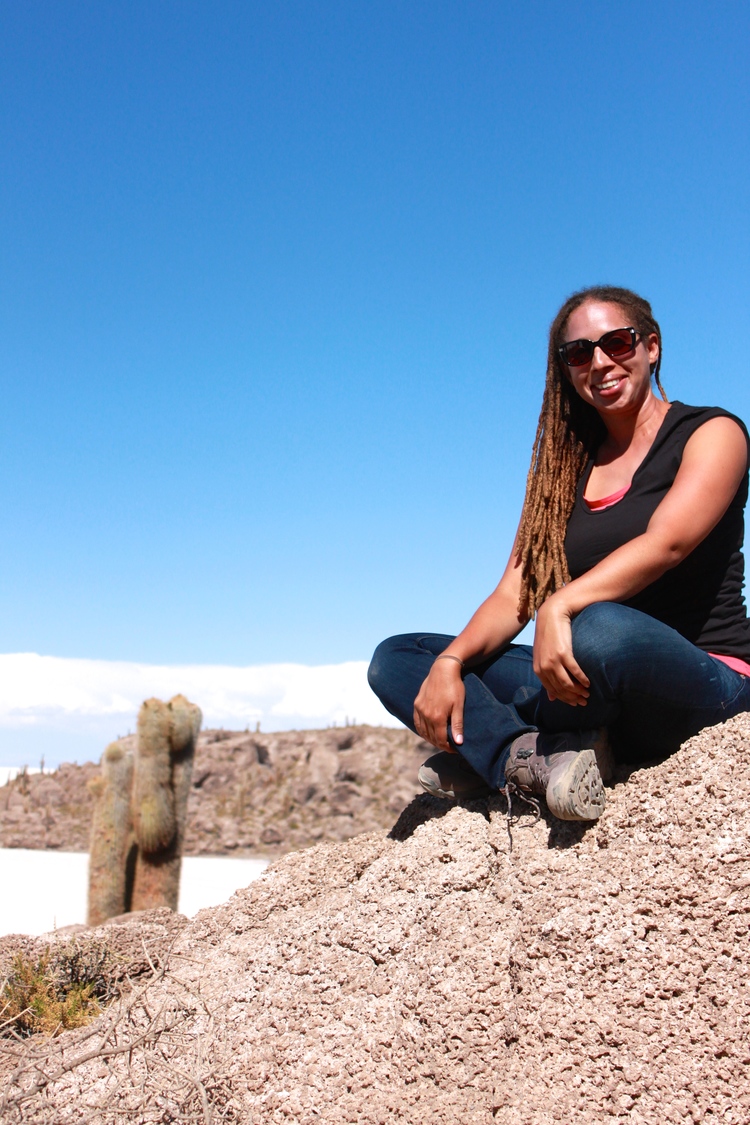 Cozumel is the largest island in the Mayan Riviera, located on the east coast of Mexico. You'll find it just off the coast of Playa del Carmen and within an hour's drive of both Cancun and Tulum. Originally discovered by underwater-loving divers, the island is now loved by tourists for its rich Mayan history, dazzling natural wonders, and opportunities for a little adventure amongst impressive natural settings.
With so much to see and do, planning your next trip might be daunting. Luckily, Cozumel seems to have its transportation options sorted for any kind of traveler, from cruisers ready for a day of adventure to travelers who have a bit more time on their hands. Whether you've got a few hours or a few days, here's how to navigate getting around Cozumel, Mexico.
Getting There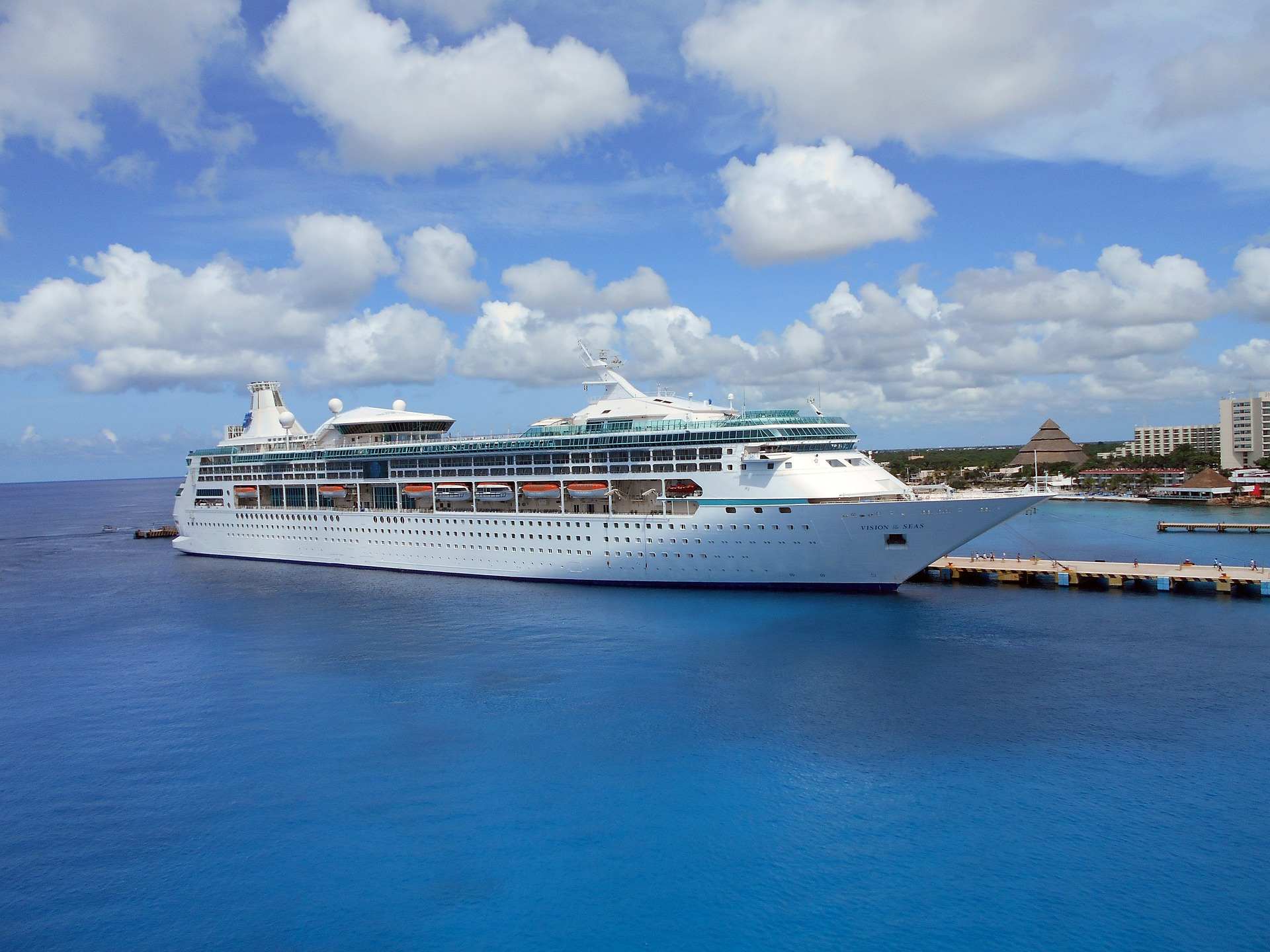 Once you've decided that you're going, getting to Cozumel can be half the fun. As one of the world's most popular cruise destinations, most tourists arrive on the island by cruise ship into one of its three main ports:
Punta Langosta
The International Pier
Puerto Maya
If you're keen to stay and explore, you can easily fly into Cozumel's international airport. Airlines such as American Airlines, Delta Airlines, and Air Canada connect Cozumel to 15 cities across Canada and the United States.
Alternatively, you also have a choice to fly into Cancun Airport if you spot a great deal and don't mind a little bit of a drive. From Cancun's airport, you have a one-hour drive to Playa del Carmen where you can catch a ferry to Cozumel. The ferry takes 45 minutes and leaves every hour during peak periods.
Getting Around Cozumel, Mexico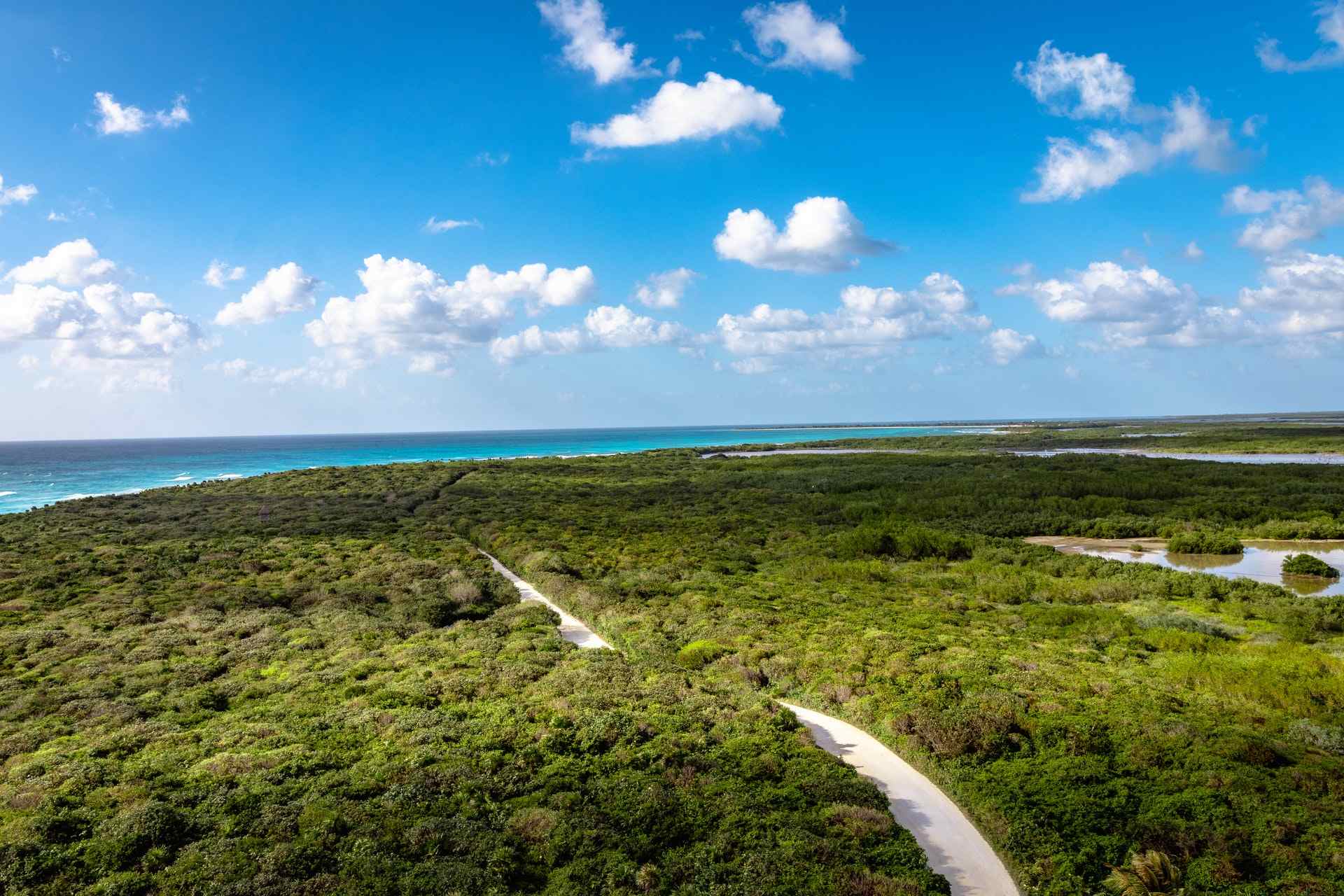 Once you've arrived, it's time to explore. You might be tempted to make a beeline to Cozumel's downtown area, San Miguel, but the real beauty lies in the surrounding areas of the island. Only have a few hours to spare? Don't worry. Cozumel is very easy to get around and with almost five million visitors every year, the island is well set up for helping you see everything you'd like to see.
1) Book a Private Guide in Advance
To really maximize your time in Cozumel, consider hiring a private guide. This is by far the most convenient option for visitors to the island. You'll have someone waiting for you at the port terminal as soon as you arrive who can take you to all the places you're keen to see, and the ones you didn't even know about.
Cozumel's private guides can take you around to local landmarks and share some of the island's history with lots of opportunities for pictures along the way. The best part is, with a private guide, you can tailor your day as you see fit. If you want to spend more time snorkeling at the beach or want to fit in an unplanned tequila tasting, your guide will be able to adjust your schedule so you can get back to your ship or hotel with plenty of time to spare.
2) Catch a Cab
Cabs are found all around the island and are a great option if you don't like to plan ahead or just want a quick trip to the downtown area or a beach club. Fares start from $8 for short trips and can get up to $70 for longer journeys with big groups.
In a pinch, you can also use a cab driver to do a tour of the island. Cozumel's cabs have private service rates for a lap around the island starting from $60 and you can negotiate your price based on how many hours you'd like to hire one for.
Taxi drivers on Cozumel are known for treating tourists fairly, but it is always recommended you ask the price of a trip before you hop in the car to avoid any misunderstandings.
3) Walk
You'll find plenty of shopping and dining options within easy reach of any of the three cruise ports but if you're interested in venturing further, there are actually a few sights within walking distance.
Those arriving at Punta Langosta port can walk to Cozumel's downtown within 5-10 minutes. On your walk there, you'll be able to visit the Coral Reef Monument, Birds Monument, the Museo de Cozumel, and No Name Bar, a local favorite with a pool, great food, and relaxed atmosphere right on the water.
The International and Puerto Maya cruise terminals are within a 10-minute walk from each other but a solid hour's walk from downtown. Within walking distance, you'll be able to visit the Discover Mexico Park, the Cozumel Planetarium, and The Money Bar Beach Club.
Keep in mind that Cozumel can get quite warm in the middle of the day. After a day of sightseeing, shopping, or margarita drinking, that 20-minute walk back to port might be much less achievable than it was in the morning. We suggest having enough cash for a cab to get back just in case.
4) Public Transportation
Public transportation is an option, but mainly to get around the downtown area. It's largely focused on getting the locals around so the routes are to the further reaches of downtown that have little interest to tourists. The majority of routes run every 20-25 minutes and are less frequent on Sundays so, while certainly a cheap option (from 8 pesos per ride), it's the least convenient and you might be sitting in the hot sun, waiting for a big chunk of your day.
Best Places To Visit When Getting Around Cozumel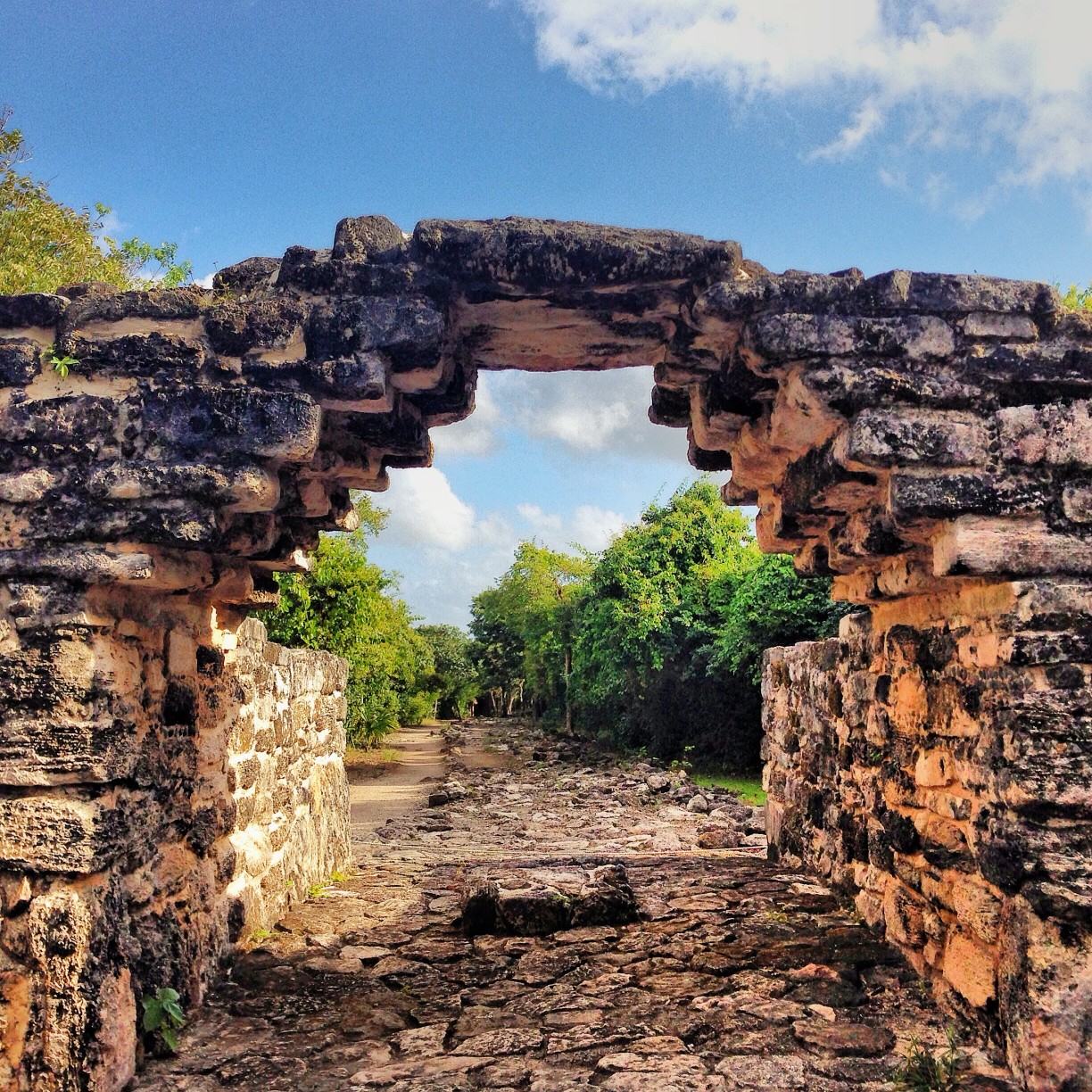 Don't want to miss anything on your next visit to Cozumel? Check out some of our favorite attractions around the island that are worth a visit. Most of these you can actually see in just one day and if you book a private guide, it's possible to get to many of them within a three or four-hour tour.
Palancar Beach
Punta Sur Eco Beach Park
San Gervasio Ruins
Tequila factory
The wild side of the island (i.e. the east side)
How to Catch a Cab in Cozumel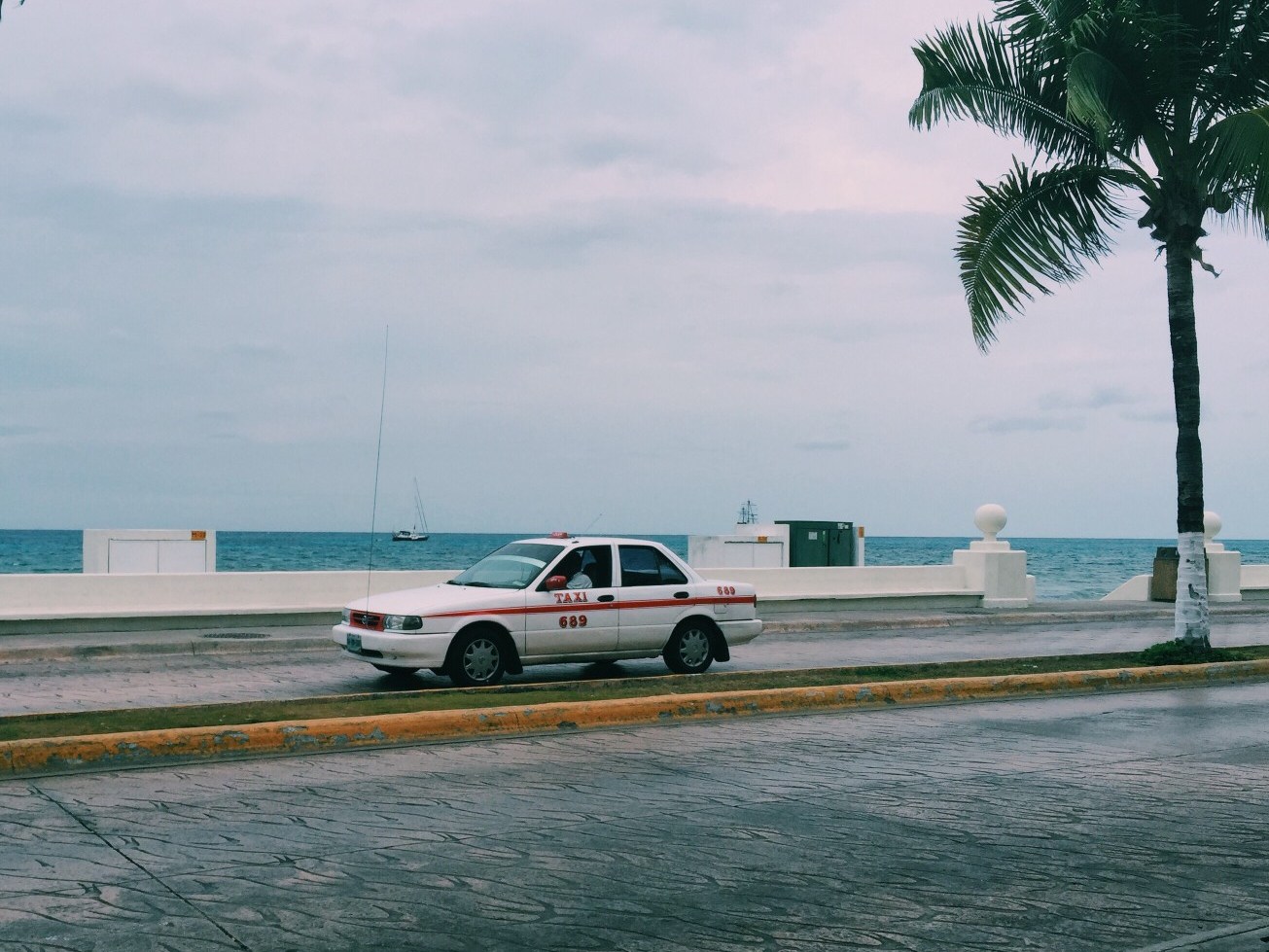 Cabs in Cozumel are relatively safe and you'll find the cab drivers very friendly. Many of them actually speak English which should help ease any nervousness about navigating around the island. Even if their English is limited, any cab driver you encounter will know how to get to any spot around the island.
Where Can You Find Cabs in Cozumel?
On your arrival, whether it's at the airport, cruise port, or ferry terminal, you will find a lot of cab drivers waiting to take you wherever you'd like to go. As you're exploring, you'll find cabs waiting at beach clubs, popular restaurants, and even local hotspots. If there isn't a cab waiting for you, just ask your hotel, restaurant, or attraction to call one.
Taxi Fares
The rates to get around are set and heavily regulated so as long as you get into an official taxi, you shouldn't have any issues with paying the right fare. Official taxis will be well-kept, clearly numbered on the outside, and licensed.
There will likely be a taxi rate chart clearly posted if you get a cab at one of the main entry points or popular sites around the island. Your driver should also have a rate card on hand if you're unclear about the cost. Cruisers can be subject to some overcharging by taxi drivers so your best bet is to confirm the fare with your driver before you get in. That way you avoid any 'sticker shock' at the end of the ride and you have the opportunity to negotiate down if you think the price is too high.
That being said, the rates for getting around Cozumel, Mexico by cab are a lot higher than you will find in most other parts of the country. Here are some examples of posted fares between the cruise ports and popular destinations around the island:
Cozumel Taxi Fares (from port)
Chocolate Factory - $11
Chankanaab - $12
Downtown - $8
Isla de la Pasion - $32
Mr. Sanchos - $17
Palancar - $25
Punta Sur - $35
Airport - $16
But remember, you are in Mexico! Many cab drivers may be willing to give you a "descuento" if you ask for their best price.
Frequently Asked Questions About Getting Around Cozumel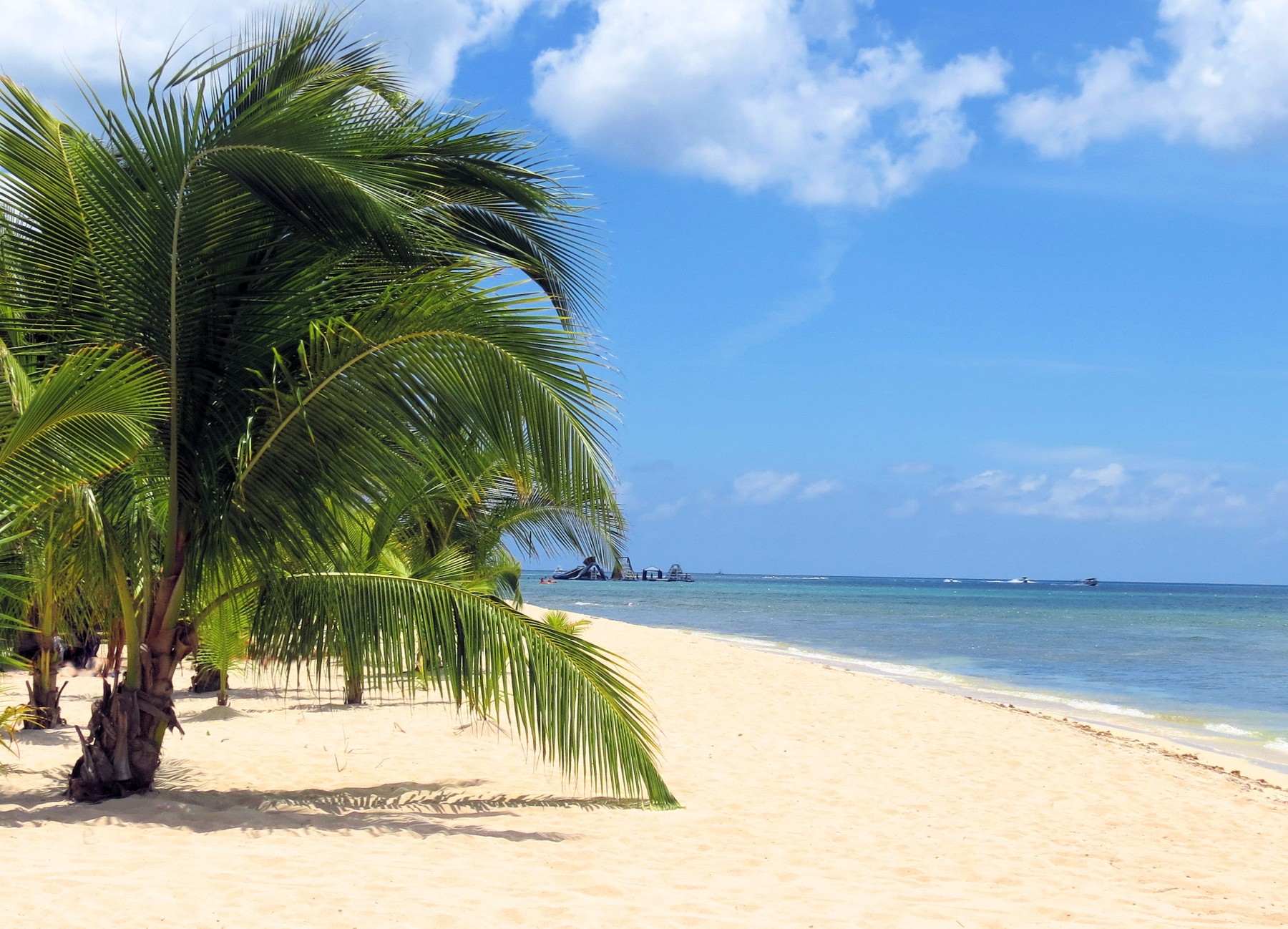 How Far is Downtown Cozumel From Port?
There are three main cruise ports in Cozumel. The closest is just a five-minute walk to Downtown Cozumel and the furthest port is 3 miles and a 10-minute cab ride ($8 or 165 pesos).
Is There Uber in Cozumel?
Although it does exist in Cancun and other parts of Mexico, Uber doesn't have a presence in Cozumel. Fortunately, taxis are plentiful and prices are strictly regulated so if you do need to get a cab for a quick trip, it should be easy to find one.
Can You Get Around Cozumel Without a Car?
It's actually very easy to get around without a car here. Walking is ideal for short distances downtown, taxis can get where you need to go for short trips and when you're looking to explore, a private driver can help you see the sights.
How Long Does it Take to Get Around Cozumel?
It should take 45-60 minutes to drive around the whole island if you don't make any stops. A more leisurely pace takes most people 2-3 hours once you've stopped for some photos, a snack or to enjoy a drink of a beachside restaurant.
It's Trip Planning Time
Now that you know that getting around Cozumel, Mexico is a breeze, it's time for the fun part: Planning your trip. If relaxing on one of Cozumel's famous top beaches is on the agenda, you can hire a driver to take you there and back, or, simply grab a taxi once you get there. If you're keen to see more of the island, hiring a private guide or booking a Cozumel day tour is the most convenient way to maximize your time.
However you decide to spend your time, Cozumel is very easy to get around so you can focus on enjoying your time rather than figuring out complex transportation details.
Next, check out the best time to visit Cozumel and our weather guide!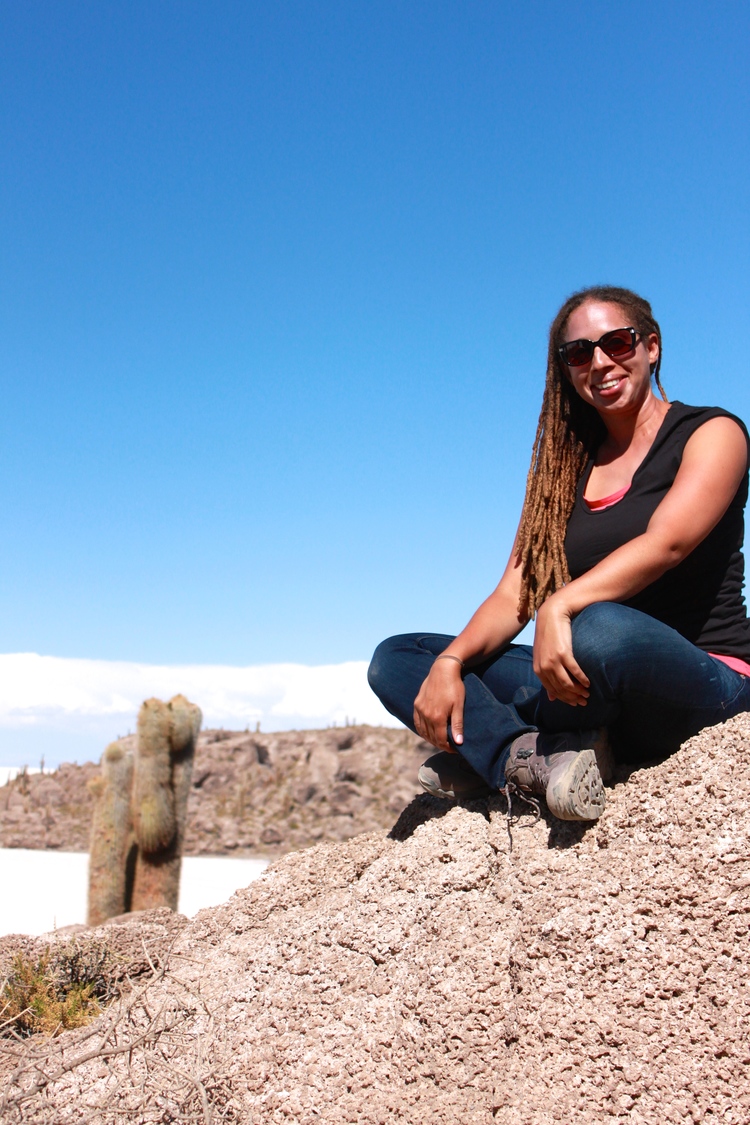 Cristal D
Local Writer, Global Traveler
Cristal Dyer was born in the Caribbean and has spent the last several decades travelling and writing, including several stints in Latin America. Currently based in Australia, she owns and operates her own travel site tofutraveler.com and is an expert travel writer, editor and photographer with a focus on solo budget travel and food tourism.
Best Excursions In Cozumel
Explore these top-rated Cozumel excursions
Resources For Things to Do in Cozumel
Helpful guides and travel tips for Cozumel activities